2021
We were thrilled to be featured on BBC Gardener's World in July on the subject of Late Summer planting.
And we were delighted to be awarded the Easter Region best garden in the NGS/English Garden competition "The Nations Favourite Garden".
2020
A huge thank you to our visitors who came and supported us in what has been a challenging year for all of us. I know many visitors really appreciated the fact that we were prepared to open the garden gate and offer a safe environment to enjoy time relaxing and visiting in the open air. We were also delighted to be able to supply friends and social media connections with secure plant sales in the days of lockdown when we either left plants by the garden gate for them to pick up or shipped to their home address.
June 2018
We were totally astounded that the garden would be included in Garden News Magazines #Best100Gardens and even more amazed that we came 2nd in the South East Category, behind Great Dixter and in front of Beth Chatto's Gardens. Practically all the gardens listed are either NT properties or gardens that open regularly. Ulting Wick was the exception in being a garden that only opens for the NGS. Many thanks to all who voted for us. https://www.gardennewsmagazine.co.uk/best100gardens
September 2017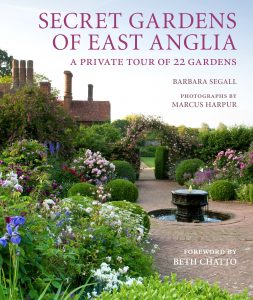 We are thrilled that the garden has been featured in the book The Secret Gardens of East Anglia published by Quarto Books in September 2017. Written by Barbara Segall and photographs by the late Marcus Harpur, Ulting Wick is one of only 5 Essex gardens to be featured. Available at all good independent bookshops and on line. We were very honoured that Barbara did a book signing at our April 2018 National Garden Scheme opening.