Created in 2004 out of the debris and detritus of an old working farmyard, this is now the heart of the garden and the area where colour is dominant. Surrounded by the listed barns the four box parterre beds are filled in spring with thousands of tulips. These are planted each year to ensure that the bulbs are top quality. Tulips are planted in drifts of vibrant colour bands which merge into each other. In May the beds are cleared of the tulips, manured and enriched with home-made compost and then planted for late summer colour. Over one hundred dahlias, different grasses and annuals propagated in-house to provide a dramatic, almost tropical feel. There is no planting plan as such as we try out new combinations each year and so visitors are guaranteed that no one visit is ever the same in this area!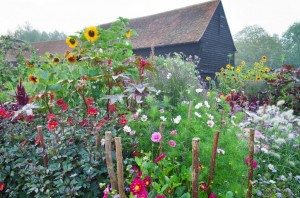 © photograph reproduced by kind permission of Marianne Majerus
THE VEGETABLE GARDEN
Oak-edged raised beds with bee motives provide the growing area for a wide variety of vegetables raised in an organic three-bed rotation scheme. Asparagus, broccoli, beans, salad crops, potatoes, strawberry beds, artichokes and courgettes are the main bounty. The area is divided by a central path where sweet peas in early summer followed by a a tunnel of pumpkins and squashes on a home-made willow and poplar arbour. The Victorian-style greenhouse is full of seedlings in spring both for the vegetable and Old Farmyard garden. In summer these give way to a number of varieties of chillies and tomatoes.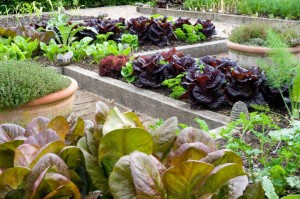 © photograph reproduced by kind permission of Juliette Wade
 THE PINK GARDEN
Created in 2004 this garden is filled with pink and purple tulips such as Barcelona, Queen of Night and China Pink in early spring. Whilst there are always plants in flower it is designed to peak in late summer when asters, pennisetum orientalis, and pink dahlias are blended with sedums and a very delicate chrysanthemum Clara Curtis to provide a flowing sea of various shades of pink.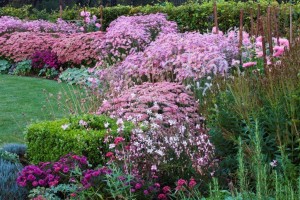 © photograph reproduced by kind permission of Clive Nichols
THE WHITE GARDEN
A small intimate garden surrounded by a yew hedge outside the cottage which was replanted in the autumn of 2021. Mainly herbaceous perennials with some box topiary plus of course a few white tulips! A wrought iron white bench provides a peaceful seating area.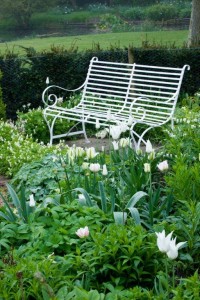 © photograph reproduced by kind permission of Clive Nichols
THE WOODLAND
Planted in 2004 this is filled with mainly native trees crisscrossed with avenues of Prunus serrulata Kanzan, horse chestnut and limes. The trees are beginning to really get going in some areas. There is a group of hazel which provides the garden with coppiced pea-sticks and stakes used so extensively as supports in high summer. We are slowly adding a thousand or so snowdrops each year to provide an element of spring interest and in the autumn of 2011 we added the first May flowering tulips to hopefully flower at the same time as the cherry canopy above.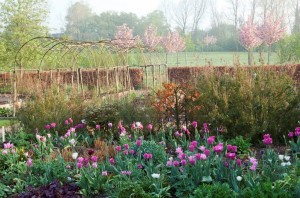 © photograph reproduced by kind permission of Marianne Majerus
THE POND AND STREAM BEDS
Wonderful mature weeping willows border the pond crossed by an old rustic bridge covered with climbing rose New Dawn. The bridge leads to a more wild area filled with daffodils in spring In summer this is a cool and leafy part of the garden and offers a good vantage point from which you can see the Old Farmyard garden and barns. The nearby pond and stream beds offer a mellow, naturalistic and restrained contrast to other parts of the garden. These beds are what remains of the original garden although many areas have been replanted and developed. Gunnera, ligularia, trollius, pulmonaria, trillium, dermera peltata, tellima, hardy geraniums and many other plants follow on from yet more tulips.
There is a walk to the stunning All Saints Church in Ulting by the River Chelmer – signposted from the garden – the church is usually open for a talk on its history.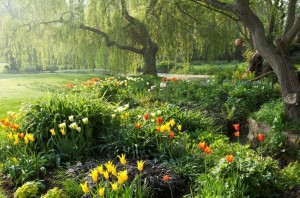 © photograph reproduced by kind permission of Marianne Majerus
THE FRONT BED
This bed was completely replanted in 2010 with drought tolerant herbaceous plants following a number of really dry and hot summers when the old planting scheme couldn't cope: just the old structural elements of box balls and Irish yews remain. Most of the new plants and grasses were raised from seed in-house and the bed is settling in well. The inspiration for many of the plants came from the nearby Beth Chatto gardens. Phlomis, salvias, sedums, linaria, nepeta, verbascums, stipas, calamagrostis and nerines abound.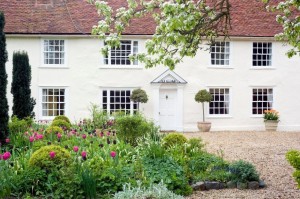 © photograph reproduced by kind permission of Juliette Wade
THE MEADOW
The meadow is the latest project in the garden. In a field that leads to the picturesque Ulting Church we prepared and developed a perennial wild flower meadow in 2010 using a mix of some 80% grass and 20% herbaceous seed from a specialist supplier. The results have been very satisfying as the area is alive with insects and has provided spectacular colour and movement. We intend to add additional plug plants to further diversify the species used.